Transparent, Complete and Efficient to Ensure the Most Desirable Outcome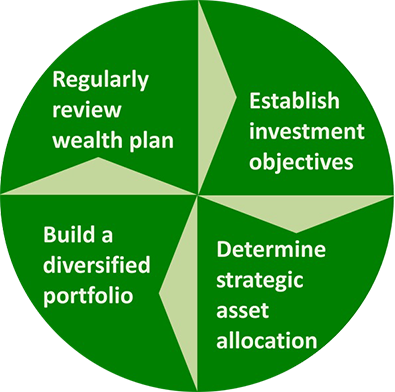 Cedrus' approach to wealth management is a simple, but critical, four-step process to ensure a client's wealth plan clearly matches his/her investment goals.  Each portfolio is individually managed, providing flexibility and control.

Step 1: Establish Investment Objectives
The process begins by clearly understanding a client's short-term and long-term investment goals and takes into account such factors as risk tolerance, investment horizon, current asset allocation, diversification, tax considerations and liquidity needs.

Step 2: Determine Optimal Strategic Asset Allocation
Since we are an independent entity, our investment advisors have access to top-tier products, regardless of who provides them. Under Cedrus' Investment Committee guidance our advisors determine the best way to implement the recommended strategy — how best to allocate assets. Regardless of a client's goals, our investment advisors typically consider both core and alternative investment approaches, and evaluate all possible strategies using asset allocation together with stock and fund selection processes to ensure a solid recommendation.

Step 3: Build a Diversified Portfolio by Geographical Location of Assets and Asset Class
Because all investors' financial situations and goals are unique, each wealth management plan must be distinctive as well. Once we have constructed a strategy and an asset allocation plan, we then build a portfolio, taking into consideration financial assets — traditional and alternative investments, direct holding of individual assets versus through best-of-breed funds — goals and risk tolerance.

Step 4: Regularly Review the Wealth Management Plan
A solid wealth management plan requires constant evaluation.  No matter how conservative they are, investments are impacted by consistently fluctuating market conditions worldwide. Investments are also affected by changes to the investor's financial or personal goals.  We monitor investment plans regularly and recommend changes as necessary. This approach ensures that investment plans remain optimized.  By creating a balance between asset growth and asset protection, we strive to provide clients with lasting value added.